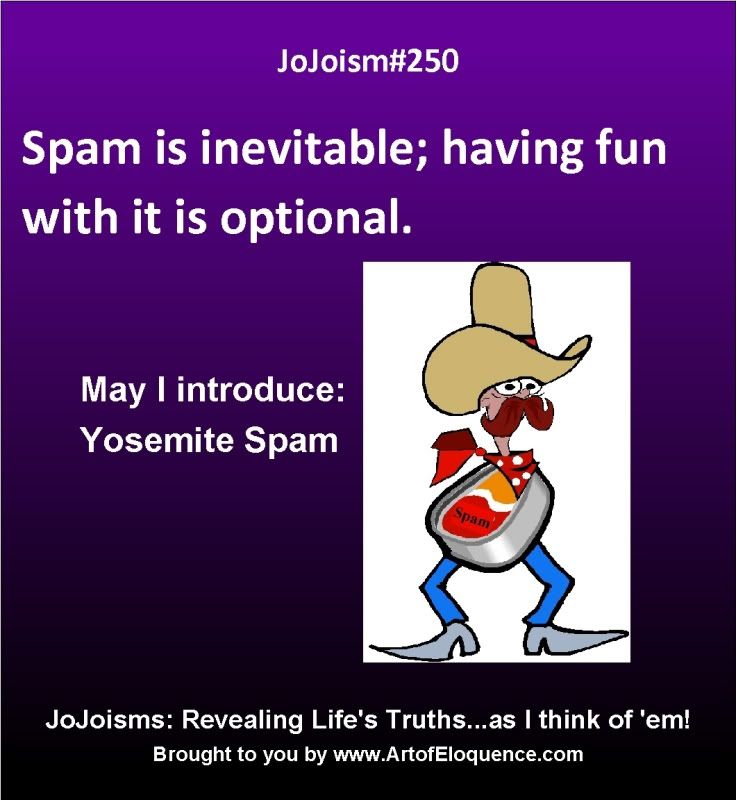 So many people said they wanted to be able to leave a comment on some of the older blog posts that I decided to open the comments back up on the blog.  They used to close automatically after five days because that's how long it takes for the spammers to come out and play. A day after opening them back up, I discovered the usual incomprehensible and self serving spam:
"This really is nice produce, My goal is to shaire the idea for my very own frinds." (Huh?!)
www. BuyMyStuff .com (Seems legit.)
You Too Can Pay Me Big Bucks For Marketing… (Where do I sign?)
"Your website is missing out on 300 visitors a day!…" (You don't say?!)
Click Here For Google .Com! (because nobody would know where to find Google!)
But then the strangest comments began to arrive in my spammer's inbox:
Do you know what images are legal to post on my blog? (Uh…why ask me?)
I'm having computer problems. What should I do? (I'd suggest the Geek Squad.)
I'd like to copyright my blog content and pictures. How do I do that? (Call a lawyer?)
What makes you think that the author of a blog on chronic illness would know anything at all about techie issues like image usage and computer network issues?  The fact that I'm Technologically Challenged and HTML Illiterate aside, what possesses you to comment asking about these things in reply to a post about my 35 year journey with chronic illness?  To adapt an old saying, if you don't have anything relevant to post, don't post anything at all.
Then, I realized that just about nobody leaves a comment on the blog anymore anyway.  🙁
Feel free to make me feel better by leaving a comment…about your Great Aunt Sally's ant farm in South Dakota.